If you are planning a trip to Universal Orlando Resort, and ButterBeer at Harry Potter World is on your list of must-dos, then we have some great news for you! There is a way to skip all the lines and get your ButterBeer fix without having to wait in long lines. Keep reading for all the details on this ButterBeer Hack!
If you follow my TikTok (Follow here) you know I hate waiting in long lines and I'm always giving y'all the best theme park tips and hacks. This hack at Universal Orlando is by far my favorite – because I love ButterBeer. The only thing better than ButterBeer is fast, no waiting in line, kind of ButterBeer. 
Know your Butterbeer options first
There are a few ButterBeer options available! My personal favorite is the frozen version. The thick whipped cream layer on top makes it creamy perfection that will keep me cool during those hot days in Orlando – which seems like every day! You can also get Butterbeer cold – this also has the whipped cream foam on top. I'm honestly not sure why you would get cold when you can get frozen. The last option is getting Butterbeer hot. This option is excellent for a chilly Florida day which does happen (rarely).
Hogsmeade ButterBeer Hack
Whatever you do, don't wait in the streets of Hogsmeade at the 2 ButterBeer carts – you'll be in line for a while! For Hogsmeade, you will head to "Hogs Head" (See map below for location). This is my favorite place to grab a ButterBeer because no one ever goes here. Compared to the treacherous lines at the ButterBeer carts on the main street, you'll literally walk in and walk out with your ButterBeer. I was just there on Sunday during Spring Break (one of the busiest times in Orlando), and I went here – there was no line! Most people think this is just a quick-service restaurant and not a place to get the sacred ButterBeer. Especially during those hot Orlando days, skip out on standing in the blistering sun at one of those ButterBeer carts outside and just go to the Hog's Head.
Also, if you're looking for some Instagram shots with your ButterBear, head through the double doors outback for an empty area where you can snap those iconic photos with Hogwartz castle in the background.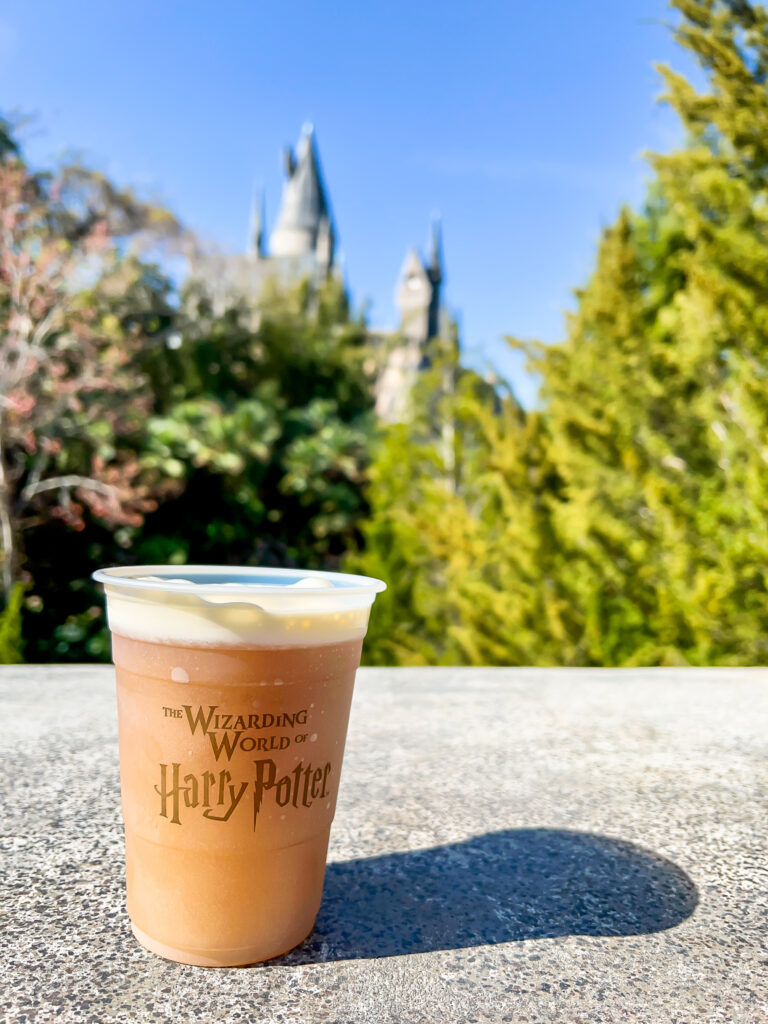 Diagon Alley ButterBeer Hack
For Diagon Alley, you will head to "The Fountain of Fair Fortune" (See map below for location). Most people will gravitate to The Leaky Cauldron because it's in plain sight right on the main strip in Diagon Alley – don't fall for this! The wait times are usually insane. The great thing about going to "The Fountain of Fair Fortune" is that it is off the main strip, and most people don't go to that corner of Diagon Alley (which is what you want for quick ButterBeer). This is like having an Express Pass for ButterBeer!
ButterBeer Hack Locations Map
Cheers to this Butterbeer hack
 Ready to avoid the long lines at Harry Potter World? Here's all you need to know. The process is simple – just follow these steps, and you can be sipping on your ButterBeer in no time! Share this post with a friend who is also planning a trip to Universal Orlando Resort.