The Walt Disney World Resort will celebrate its 50th anniversary in October, and Walt Disney Imagineers are pulling out all the stops for this monumental occasion. Special activities, new attractions, and even a new parade explicitly created to honor Walt Disney's legacy. Exciting news like this makes it hard to wait until October! To get you excited for Walt Disney World's big birthday bash, here are seven ways to celebrate the milestone celebration.
Disney Enchantment is an all-new nighttime extravaganza that Walt Disney World debuted recently. The show has taken the place of Wishes Nighttime Spectacular, which Walt Disney Imagineers call "the grand finale" to celebrate Walt Disney World's 50th anniversary this year. This new nighttime spectacular combines fireworks with projections that bring many Walt Disney World's attractions and characters alive. You can expect captivating Disney music, enhanced lighting, magnificent fireworks, and all-new special effects during this spectacle.
Beacons of Magic lights up many of the theme park's sought-after icons, including the Hollywood Tower Hotel and Cinderella's Castle. The icons at all four Walt Disney theme parks will be the pinnacle of everyone's attention as they are illuminated with dazzling displays of lights and colors. Starting on October 1st, the Beacon of Magic will occur nightly at each park.
3. Mickey's Celebration Cavalcade
Walt Disney World is also releasing a special new "Mickey's Celebration Cavalcade." The parade features all-new floats that tell the stories of Walt Disney and Walt Disney World, celebrating 50 years of magical memories in Orlando. The Cavalcade occurs in Magic Kingdom, which will be performed several times throughout the day beginning October 1, 2021.
The Cavalcade will feature Mickey Mouse and Minnie Mouse, Donald Duck and Daisy Duck, Goofy and Pluto, and Chip 'n' Dale sporting their sparkling new EARidescent fashions for Walt Disney World's 50th Anniversary. As hosts of the event, they will be dressed for the occasion in custom-made fashions made from EARidescent fabric. Highlights include beautifully embroidered impressions of Cinderella Castle and fireworks with brocade in multi-toned EARidescent fabric – all punctuated with pops of gold.
4. 50th Anniversary Celebration Merchandise
Nothing marks this celebration more than the 50th-anniversary merchandise collection that Walt Disney World just launched. Originated by Walt Disney himself, the line consists of various product assortments inspired by Walt's original sketches and designs. To mark the grandiose celebration, Disney is launching five new collections!
With this selection from our celebration collection, you will never run out of ways to show support for your favorite anniversary. You'll find everything you need, perfect for mixing and matching; the collection will feature accessories by Dooney and Bourke, festive headwear, coordinating mommy-and-me ensembles, fashionable t-shirts, and collectible 50th-anniversary character plush.
This royal collection is inspired by Cinderella Castle, one of Walt Disney World's most iconic attractions. From collectibles to castle-inspired attire, the products will appeal to everyone in your family and are perfect for celebrating The Most Magical Celebration at Walt Disney World Resort.
This super-fun assortment of retro-themed treasures is inspired by The Walt Disney Archives. It contains ultra-cool items that were created for the 50th-anniversary celebration at Walt Disney World Resort.
This collection of shimmering clothing is inspired by the 50th Anniversary celebration and lets you wrap yourself in all things magical. Get your hands on this out-of-this-world apparel now!
Celebrate the golden anniversary with a highly coveted selection of 50th-year collectibles. These items are destined to be crown jewels in your collection and will add the glamour and style that this milestone deserves.
The collections feature Walt Disney World 50th Anniversary EXCLUSIVES, such as special 50th logo pins, new 50th MagicBands, never before seen apparel, and much more! All of the collections mentioned will be launch on October 1st, 2021!
5. Cinderella Castle Redesign
In honor of the park's 50th anniversary, Magic Kingdom's iconic Cinderella Castle has been adorned with 113 pieces of golden swirls and bunting. The castle received a baby pink paint job, followed by decorations such as gold ribbons, royal blue jewels, and pearls. These visually striking additions were installed gradually during overnight shifts this spring and early summer. The final piece of the puzzle was the large "50" medallion above Cinderella Castle's balcony, installed over the Summer. So if you're visiting ahead of Walt Disney World's 50th Anniversary ahead of October, you'll see the final product. Celebrate the 50th anniversary by striking a pose in front of the new decked-out castle!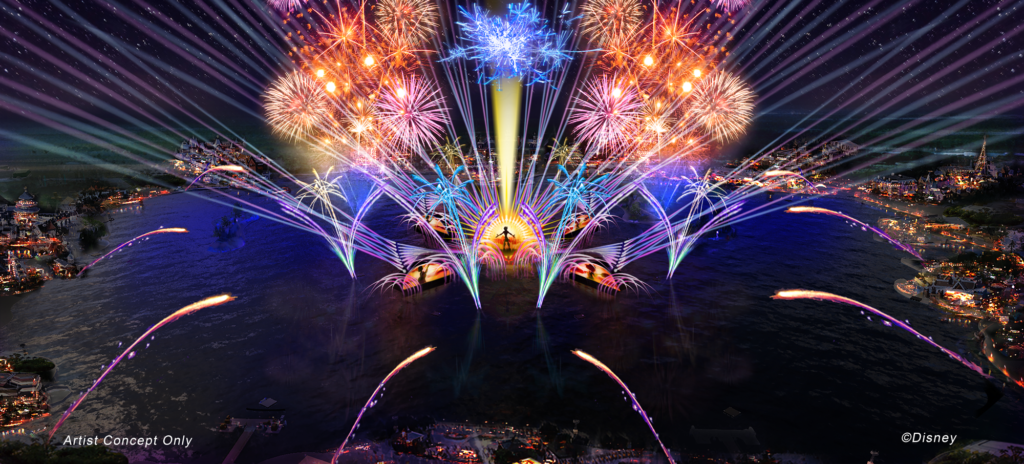 Come to the heart of Epcot as Harmonious, one of Disney's largest nighttime spectaculars ever. Witness a beautifully crafted medley that pays homage to classic Disney movies and music, with 240 artists from around the world creating this performance for you! With its inspirational message how all people can overcome any language or border when there is magic in storytelling, it will have your eyes dazzled by everything at once.
Enter an amazing world inspired by Moana, Aladdin, Coco, and more as "Harmonious" brings diverse Disney stories together in musical fashion. Colorful images and effects dance to familiar music from various cultures throughout the show that spans over seven languages.
This magnificent new show combines floating giant screens, choreographed fountains with lights pyrotechnics lasers at World Showcase Lagoon for all guests to experience in 360 degrees! The immersive presentation blends classic Disney films like Mulan and Princesses Tiana & Rapunzel into one spectacular production; audiences can expect colorful imagery dancing across moving scenes while listening to iconic songs amidst different multi-lingual perspectives.
7. Disney Fab 50 Character Collection
During the world's most magical celebration, 50 golden characters wait to be discovered in all 4 theme parks. The first Disney Fab 50 sculpture is Mickey Mouse. Other character designs will continue to be announced by Walt Disney World, Pixar, D23 Magazine, National Geographic Channel (NGC), and more through October.
Here's the full list of Disney Fab 50 statues as of September 3rd, 2021:
Mickey Mouse
Minnie Mouse
Donald Duck
Goofy
Daisy Duck
Pluto
Chip
Dale
Lumiere
Cogsworth
Joe Gardener
Timon 
Pumbaa
Figment 
Orange Bird
Dante
Edna Mode
Woody
Bo Peep
Buzz Lightyear
Mad Hatter
Dumbo
Timothy
Stitch
Cheshire Cat
Miguel
Bambi
Thumper
Pooh
Piglet
Pinocchio
Rocket Raccoon
Baby Groot
Frozone
Gus
Jaq
R2-D2
BB-8
Pua
Hei-Hei
Lady
Tramp
Simba
Bruni
Sebastian
Flounder
Olaf
Abu
Tinker Bell
Ariel
New Attraction, Remy's Ratatouille Adventure Launches on
October 1st, 2021
What It's Like to Be Inside Remy's Ratatouille Adventure
Join the fun as you become one of your favorite characters from Disney Pixar's film "Ratatouille. This 4D ride experience will captivate all your senses and allow you to zip, dash, and scurry through an exciting Parisian restaurant kitchen!
When Remy's Ratatouille Adventure initially opens, to experience the attraction, guests will be required to join a virtual queue. A standby queue is not available at the opening, and it may get limited soon after launch.
Animal Kingdom 8 am-7 pm
Disney's Hollywood Studios 9 am – 9 pm
Epcot 10 am – 10 pm
Magic Kingdom 9 am-9 pm
Disney Enchantment – 9 pm (Oct 1-3) | 8 pm past Oct 3rd
Beacons of Magic – Nighttime | Every Night
Harmonious – 9:45 pm | Every Night
Never miss a moment of the celebration! Here is a map of each 50th event so you know where you're headed.
Face coverings are required for all Guests (ages 2 and up) in all indoor locations, regardless of vaccination status. This includes upon entering and throughout all indoor attractions and indoor queues and in Disney buses, monorail, and Disney Skyliner, regardless of vaccination status.
Experience the Magic of 50 years
The 50th anniversary of Walt Disney World is just around the corner, and there are so many ways you can celebrate. Whether you're planning a trip to Orlando or simply staying in your own backyard, we want to know what excites you most about this milestone! So let us know- will you be visiting for the first time? Will it be with family members like never before? Or do you plan on coming back again as an annual tradition? Share how excited you are below in the comments section, and keep checking back for more updates from our blog!
As to Disney artwork, logos, and properties: ©Disney © & TM Lucasfilm. Ltd.