If you're looking for a way to save on your next trip to Universal Orlando, look no further! I've got the perfect hack for you that won't cost you a penny. Just follow these simple steps, and you'll be enjoying all the parks have to offer without breaking the bank. Happy travels!
Saving Money Is So Refreshing At Universal
Let's face it Universal Orlando is already expensive as it is getting into the park. The last thing you want to do is spend a small fortune on water bottles! 🤦‍♀️ The average cost of a 1 water bottle at Universal is about $3 – $4. That may not seem like a lot but in the Summer months when it's blazing hot out and as humid as a steam room you'll be consuming quite a few. However, with this amazing hack, you can save your money and stay hydrated – yayyy! Many many MANY people don't realize that you can get unlimited FREE water through the Coke Freestyle machines throughout Universal Orlando! As a content creator, I'm always at the parks and use this hack – it works every time!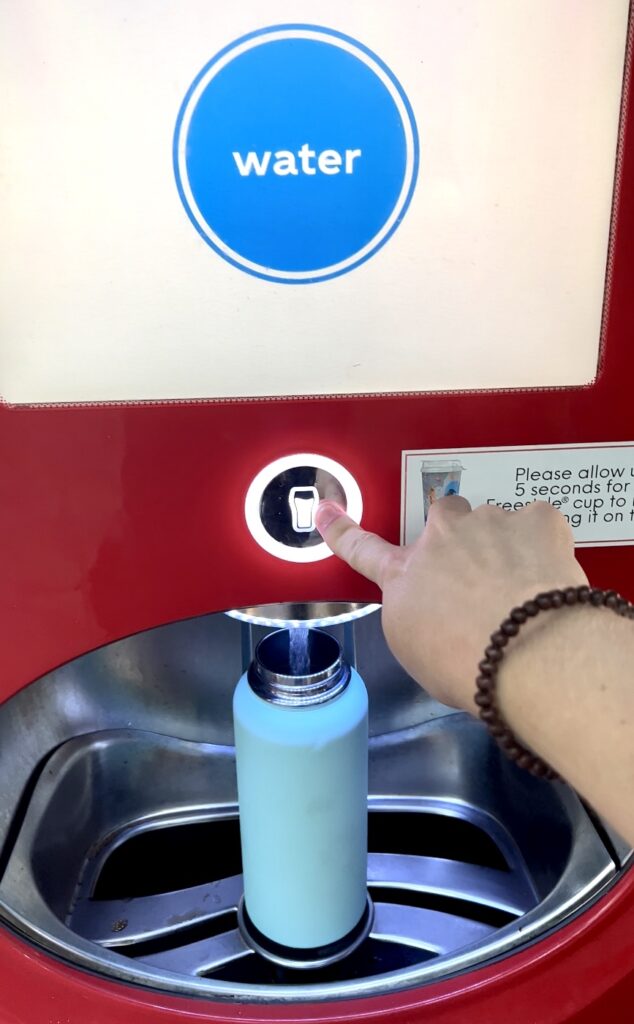 It's so simple to do too. Just go up to any machine (map with all the locations below), and place your bottle underneath, you'll see the "blue" water icon on the left-hand side of all the options – select it, and 💥 you're all set to hydrate! The best part? It's unlimited and you can go back as many times as you want. This is a real deal lifesaver for Summer especially when the temperatures creep up into the 90s.
Down below, I did the hard work for you! I created this map with all the locations of the Freestyle machines in both Universal Studios and Islands of Adventure so you can focus on having all the fun at Universal and save money. 👇
Map Of The Drink Machines In Universal For This Hack
We Have Discounted Universal Tickets
Have you tried our hack for saving money at Universal Orlando? It's simple, and it works! If you're looking to save on your next trip, be sure to call us. We can help get you the best deals on tickets, hotels, and more. Thanks for reading, and happy travels!