The day has finally arrived and we are very excited for the inauguration of Jurassic World VelociCoaster. The Universal Orlando attraction includes two high-speed launches, with one maneuver that propels visitors 47 meters into the air.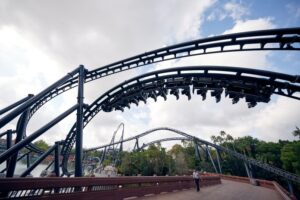 Universal Orlando kept us waiting for two months before deciding that today June 10 was the final date for the opening of this new roller coaster.
We all know the subject, but …
Are we ready for this great dose of pure adrenaline?
The new VelociCoaster and portends a jungle environment where she becomes the main predator on roller coasters.
You'll need to be prepared to embark on a high-speed race through the park's raptor paddock.
You'll feel the thrill of a true hunter as you race alongside these fast-paced predators, circling and soaring above land and water.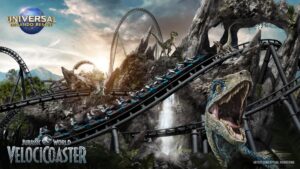 It has been a long months of waiting since construction began in January 2019, where work was initially being lifted at Islands of Adventure without prior notice. Later the news that spread in September 2020, is that the attraction was being built in Jurassic Park. However, we are aware that the delay to the completion of the attraction and the opening date was affected by the COVID-19 pandemic.
There is no doubt that the VelociCoaster will not only become the tallest and fastest attraction in Florida, but it will also make its passengers feel like they are in a true suspense movie, as it has advanced and sophisticated transportation vehicles combined with a system really exciting audio while traveling.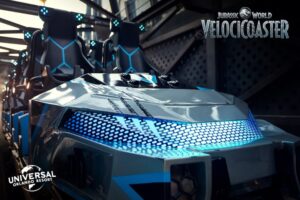 This is the same technology that was used to create Hagrid's Magical Creatures Motorbike Adventure roller coaster in the area dedicated to the world of Harry Potter, which became the most visited attraction at Universal Orlando Resort.