We all want to take the cutest pictures, especially during Fall, am I right? As a big advocate for going out and taking cute Instagram pictures myself – I know the struggle of constantly hunting down new photo spots! If you know me well enough by now, you already know that this post has the best advice, photo location map, and Google map tags, so you can worry less about where to find the spots and focus more on your presets and poses. Let's get started! I present to you the best Orlando Fall Instagram Locations – 11 of the best Fall photo locations in Orlando. 
1. Orlando Fall Instagram Locations - Lake Jesup Conservation Area
I have many photos here for friends, and it is absolutely breathtaking! If you love (baby) sunflowers, then this is the spot for you. It seems like an endless stretch of these yellow wildflowers! You can do all kinds of cute family Instagram or fashion editorial pics at this location. Not too many people know of this location, so that you won't be limited to one spot. Let your creativity run free with this Orlando Fall Instagram Locations gem. 
2. Tibet-Butler Nature Preserve
If you're like me and love taking rustic yet cute Instagram photos, then this is your best bet from this list! Orlando Fall Instagram Locations usually don't resemble the great outdoors – except for this preserve. Please put on your hiking boots and flannel and embody the mountain vibe we all adore about Fall! This location is excellent for "hiking" fashion photos, candid family portraits, engagement photos, and landscape photography. 
3. Orlando Fall Instagram Locations -Bok Tower Gardens
I love coming to Bok Tower! It's truly a scenic visual experience – I'm sure you loved that… But really, it is a gorgeous backdrop for Fall photos behind the rolling hills in the distance. Bok Tower is perched upon a hill so that you can see for quite some distance. Your best views of the orange fields and hills will be located around the singing tower FYI. I'm a fan of all the garden space with various trees that make it look like "Fall in Florida." The Mediterranean house is really cool for a photoshoot – I say just bring some pumpkins, pose and vogue outside the mansion and be creative!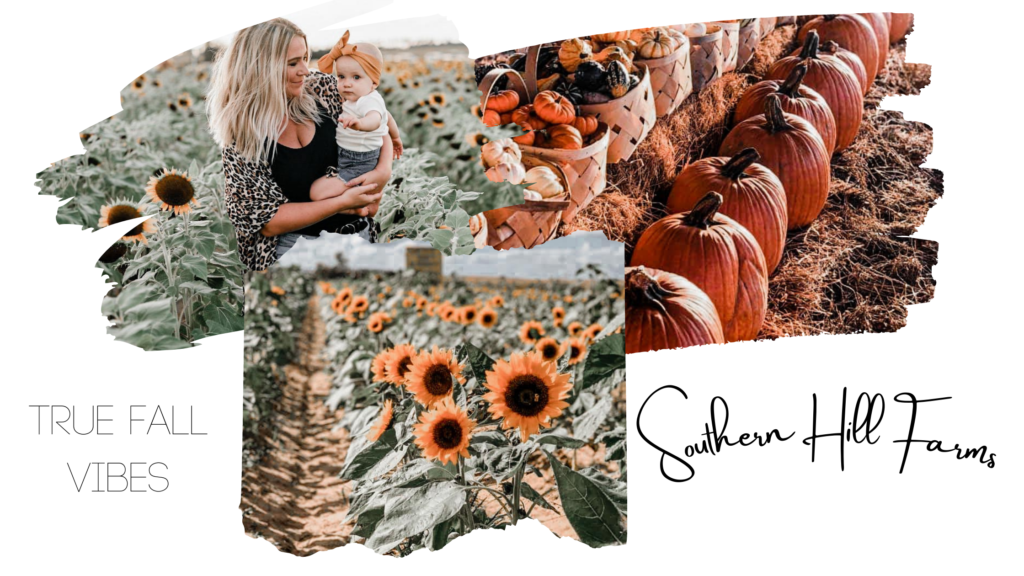 True Fall vibes are definitely here! This feels like you're more up North with a legitimate pumpkin patch, big sunflowers, and an overall festival feel. If you can get past the large crowd and the dirt roads that feel like your tires are going to fall off then this is perfect. I especially like how you can take cute Fall sunflower instagram pictures and then jump over and take cute Fall pumpkin patch instagram pictures – ALL IN ONE PLACE! They said Florida doesn't get Fall, I say – Southern Hill Farms!
5. Orlando Fall Instagram Locations -Mick Farms
Looking for more of a simple Fall farm vibe? Mick Farms is still that cute Fall theme you want for Instagram photos but less busy than Southern Hill Farms. I love that you can buy everything you need for your pantry while you're there as well! It's nice to add that there is no high admission cost such as $20 per person – which adds up for a family of 4 or more (Southern Hills Farm). This is one of my favorite Orlando Fall Instagram Locations – definitely worth it for the gram!
6. -Santa's Tree Farm Pumpkin Patch
Santa brought more than you would have thought to Fall this year. At Santa's Tree Farm there is a full festival featuring: Pumpkins everywhere, a hayride, petting zoo, and a night time fall festival. Expect cute Fall photos in the elaborate pumpkin patch and underneath the orange lights at night. Just think of all the cute Fall photos you'll be able to take on the hayride – Yesss!
7. Orlando Fall Instagram Locations -Fall on the Farm Festival
Looking for a perfectly staged Fall Instagram photoshoot? This is the place for that! If you can get passed the steep $60 entrance fee the possibilities are endless and by far Instagram worthy. Oh and this location is on Ritz Carlton property in Orlando so you already know the photo spots are going to be prime!
No one decorates better than Disney – period. Fall at Disney Springs is always a cute moment. Throughout Disney Springs you'll find Orlando Fall Instagram Locations. All you have to do is wear a fall inspired outfit and the rest of the Fall vibes are already there!
9. Orlando Fall Instagram Locations -Independence Town Square
Purple, green, and orange lights illuminate the night here! Independence Town Square set up Fall themed photo areas that are cute for Instagram photos. I especially liked how they included pumpkins, lights, and the hay to sit on. Even in the day it's very on brand with Fall to take photos here.
This BY FAR is one of my favorite Orlando Fall Instagram Locations – this park is 50 acres of gorgeous scenery in the middle of Orlando. Now this location doesn't have pumpkin patches, or sunflowers so you may have to let some creativity shine. Leu Gardens has stunning Fall flowers with the traditional colors that will add Autumn to any Instagram photo. In Leu Gardens there is even a rustic garden complete with lush greenery and a white picket fence.
11. Orlando Fall Instagram Locations - Orange Wall Mills District
LA has the famous Paul Smith "Pink Wall" well Orlando has the famous Orange Studio "Orange Wall". You wanted a prime Fall photo location – whats more Fall than a bright orange wall?! I would say bring a pumpkin or two, maybe some other props and let Fall creativity come out as you photograph on this blank canvas!
Orlando Fall Instagram Locations Map
Found this Helpful? Share it!
Fall is the perfect time to get out and explore all of Orlando's natural beauty. From scenic parks to open sunflower fields, there are so many great opportunities for you to take some amazing photographs this fall season. To help inspire your next weekend adventure, here are 11 of our favorite Orlando Fall Instagram Locations where you can snap the best photos! 
As always, share this post if it helped you explore Orlando a little bit more! Stay tuned for more great photo locations.