On Saturday, October 9th come out for Orlando LGBT Pride at Lake Eola Downtown! Come out with Pride Orlando supports the LGBTQIA+ community by celebrating their successes, promoting unity through diversity, and strengthening ties among members of the LGBT. This year's event will be on Saturday, October 9th, at Lake Eola Park in Downtown Orlando. Join us for a day full of live entertainment at Orlando LGBT Pride! There are plenty of ways to get involved this year – show your Pride by wearing your favorite colors or attend one of the many events of the day! Get ready for a fun-filled day that's sure to leave you feeling empowered and inspired! Here are five reasons to go to Orlando's LGBT Pride!
1. Supports the Community (On Many Levels)
By going to Pride you are supporting the LGBT community and movement toward equality. Pride is important because it strengthens the bonds within a community. Come out with Pride Orlando had an approximate 24+ million dollar economic impact to the City of Orlando in 2019. Be a part of the celebration, whether you're a part of the LGBTQ community or an ally, whether your life has been impacted by our struggles through the years or not. Progress and happiness is to be celebrated by all. Orlando Pride supports the entire community!
2. Meet New People, Enjoy New Experiences at Orlando Pride
What better way to meet new people and open yourself to new experience than at Pride?! Since being postponed in 2020 due to COVID-19 – people are ready to mingle and meet new friends. From personal experience I've met some of my closest friends through volunteering at LGBT events. You'll find some of the nicest most accepting people at Pride which is all the reason to go and meet new people! 
In 2019, there were 185,000+ attendees, making Come Out With Pride one of the largest pride events in Florida. Since the event is so large there are s many experiences to indulge in. This year, come out for Pride Orlando will have over 15 live performances,  a VIP area, a marketplace, and a parade! 
3. Pride Raises Awareness
Pride is about being visible and proud of who you are. It provides the opportunity for LGBTQ families to break boundaries, showing that there can be many different kinds of couples in any community with kids or without – which might help change people's mindsets around how they think two dads/moms lives unfold! Even though there is an amazing online community of LGBTQ parents, people in real life don't often think of two-dad or two-mom families as being common or having the same life events as hetero families.
4. Recognizing LGBTQ History and Progress
A big reason to go and support Pride is paying homage to how far the LGBT movement has come. It wasn't all that long ago that the LGBT community was seen negatively in the public eye – not nearly as accepted as it is today. From the beginning of the Stone Wall riots in the 1960's to legalized same-sex marriages in 2015, there has been major strides and challenges that have been conquered. It is important to note the significance of Pride and how it's shaped history. Pride matters because countless people have lost their jobs, families and lives to be able to live in peace with themselves. By going to Pride you're continuing the symbolic stand for equality. Here is a video that showcases the history of Pride from Mashable.
5. Pride Is Empowering | Orlando LGBT Pride
In a world where some people are denied the right to be themselves, Pride offers an opportunity for all of us – no matter who we are or how different our identities may seem-to celebrate diversity. Take pride in being part of something bigger than ourselves! Through these events we demonstrate that threats will not shake our resolve; equality is worth fighting for! Whether you identify as a member of the LGBT community or you're a supporter – coming together for unity is an empowering and uplifting experience for everyone involved!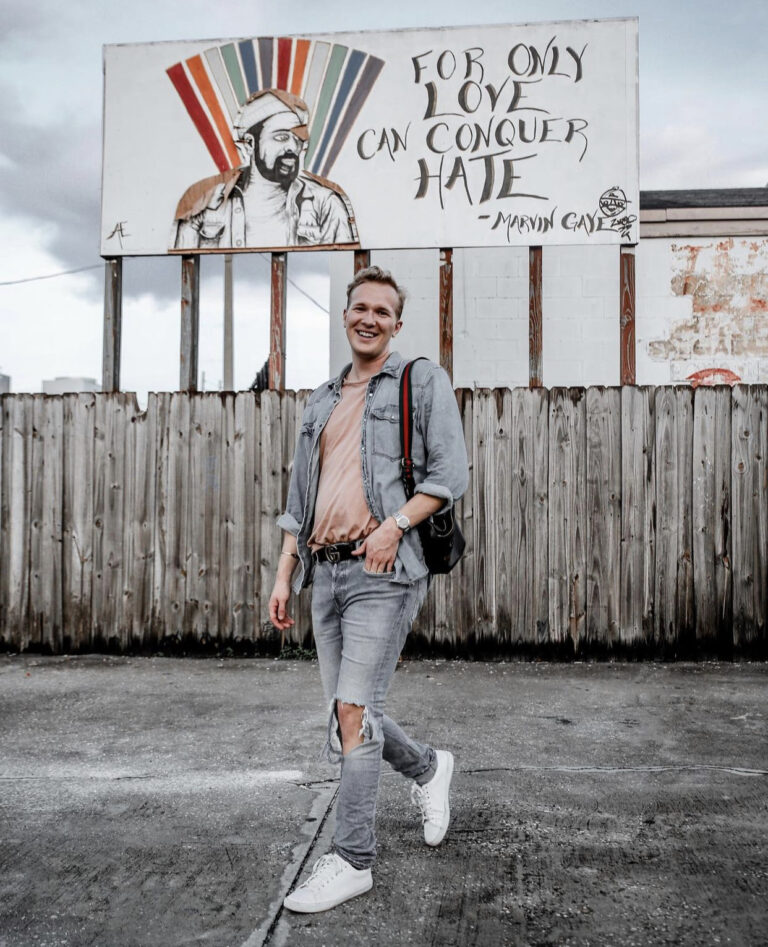 What does Pride means to me? "Pride is much more than dressing cute and waving a rainbow flag 💁‍♀️. It is the feeling of self acceptance – which was a long hard road for myself. To be out with hundreds and thousands of similar individuals that make up the LGBT community is a uplifting experience. Many of us have faced many obstacles and challenges in becoming who we are today and being among so many like minded and supporting people is a priceless feeling. Orlando Pride is especially touching since the 2016 Pulse Shooting which left 49 people dead at an LGBT Nightclub in Downtown. It's beautiful to be apart of a city that has turned pride into a celebration of unity. We are Orlando Strong! #OrlandoStrong 🏳️‍🌈
This will be my 4th year going to Orlando LGBT Pride! I love going and meeting new people! The event offers so much – I especially love the food trucks and all the entertainment. My biggest tips are – Dress comfortable, but cute of course and stay for the fireworks at night. I hope to see you all there at come out with pride Orlando! Happy Pride! ✨🏳️‍🌈✨
Share the Post & Enjoy Orlando LGBT PRIDE
Orlando's LGBT Pride event is coming up this weekend! The festivities will last all day, so make sure you're there early to enjoy all the events. Whether you want to do some shopping at one of the many vendors or enjoy a picnic with friends at Lake Eola, there are plenty of ways for everyone to have fun and celebrate being who they are. If you enjoyed the post we would love if you would SHARE it with friends & family! 
Download Orlando LGBT Pride Event Map
We want you to be prepared for ALL the fun at Orlando Pride! Click the button below to download the Official 2021 Come Out With Pride Orlando Map.