SeaWorld Orlando's first roller coaster:

Ice Breaker

promises to thrill its passengers through family rides.
Ice breaker is SeaWorld's first multi-directional roller coaster and that means it moves from track to track.
It seems to be exciting, doesn't it?
Ice Breaker will feature four airtime-filled pitches, both backward and forward, culminating in a reverse pitch toward the steepest vertical drop in Florida – a 93-foot-tall peak at a 100-degree angle.
The excitement continues as passengers fly over a nearly vertical top hat maneuver in a series of thrilling airtime twists, turns, and hills. Despite all of this, according to Brian Andrelczyk, SeaWorld's Senior Vice President, the roller coaster is kid-friendly and something the whole family can enjoy.
Ice Breaker will be located in front of Wild Arctic and will open in 2021.
The theme of this novel attraction is related to a helping hand to the preservation of the environment, which makes the Wild Arctic, Alaska SeaLife Center and the Icebreaker partners to educate and raise awareness of Antarctic life and its inhabitants among passengers.
The opening news of Ice Breaker becomes the perfect excuse to enjoy a little vacation at SeaWorld Orlando. Icebreaker joins the growing demand for trips to SeaWorld that already features sensational attractions such as: Mako, Manta and Kraken, to the water rapids of Infinity Falls and the fun of Journey to Atlantis.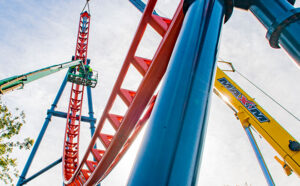 Here we leave you a preview of what you can experience in this new and freezing attraction:
https://youtu.be/qP29YK9crDk?list=TLGGf62OwBBcGycwODA2MjAyMQ
Dare to enjoy an unforgettable experience in Orlando!