Disney is known for having some of the most magical and memorable experiences on the earth. While all of these are unforgettable, there are a few experiences that will surely stand out above the rest.
Here are the most exceptional Experiences at Disney World:

1. Disney Dining
Beside the exquisite food, there are so many other aspects of Disney dining that is special including but not limited to meeting characters, theming, the exceptional staff and entertainment. If you haven't experienced dining at Disney, put it on your to-do list for your next visit!

2. Meeting Characters
There is nothing like meeting your favorite Disney characters. This is truly a unique experience since these characters are only available for meet and greets at the parks. They will make your pictures fun too! 

3. Nighttime Spectaculars
The nighttime shows experienced at the parks are truly jaw dropping. Since these shows are only put on once per evening, they get crowded very quickly. You'll want to make sure you get a good viewing area up to an hour before show time.

4. Dessert Parties
Dessert parties have boomed since they first began. Dessert parties are an additional cost to the park entrance, but they are an experience you'll never forget. These events are very popular and they sell out pretty fast so if you're interested, you'll want to reserve it as soon as possible.

5. Bibbidi Bobbidi Boutique
Every little girls dream is to become a princess, and now, you can do just that! The Bibbidi Bobbidi Boutique at Disney Springs and at the Magic Kingdom is the ultimate salon for turning into the belle of the ball. Make sure to reserve your spot in advance since they tend to fill up quickly.

6. Monorail
While it may just seem like another method of transportation to some, the monorail is an exceptional experience for true Disney fans. It's also the window that many guests see the castle from for the first time. There isn't any other form of transportation like this anywhere and it makes traveling around Disney truly magical.

7. Backstage Tours
While the Disney magic is evident all around the park, it's apparent backstage too! If you haven't taken a backstage tour at the parks, you don't know what you're missing! There is a list of available tours on the official Disney World website and be sure to ask about annual pass discounts!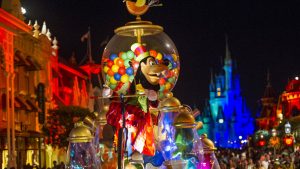 8. Hard Ticket Events
Two of the most popular & beloved events that Disney fans all over plan for months is advance is Mickey's Not-So-Scary Halloween Party and Mickey's Very Merry Christmas Party. These two events are so popular because they deliver experiences that are one of a kind and truly memorable. Since both of these events are popular, you'll want to book them when they become available.

9. Holidays
The holidays at Disney are truly special!  No matter what is being celebrated, there are always activities, events, music, food, photo opportunities and other great integrations of each holiday into everything offered at the parks and resorts. 

10. Engagements
There are thousands of proposals each year at the parks, and while the most cliché one is in front of the Cinderella castle, it never ceases to amaze me at how each one is truly magical and special time and time again. For those planning a proposal or assisting with one, there are several great places to ask your partner of your dreams to marry you all over the Walt Disney World property!

11. Disney Weddings
What better way to commit to your partner than having it at the happiest place on earth? Disney weddings occur thousands of times per year and whether you're having a large one or a more intimate one, there are several venues and options to create your dream wedding. If you can make a Disney wedding happen, you'll have an experience that will last a lifetime! 

12. The Service
Disney service is unlike any other service you'll receive anywhere else in the world. Cast members strive to make sure guests are happy and satisfied throughout their visit and they also 'sprinkle' magic at certain times. Disney service is unforgettable because they make small unexpected moments of magic happen when we least expect it.
Via disneyfanatic.com