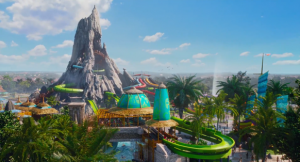 Water is Life. Life is Joy. That's the philosophy celebrated at Universal's Volcano Bay™ water theme park. It's the carefree attitude the fabled Waturi islanders have embraced on their Pacific isle for centuries. Now you can live the Waturi way at this all-new park where thrills and relaxation flow in perfect harmony. With the power of the TapuTapu™ wearable, there's no standing in long lines, carrying rafts around the park, nothing between you and a full day of fun.
ATMOSPHERE:

The look has a South Pacific feel, but it's not based on any one Polynesian culture. As the story goes, Volcano Bay is the home of the Waturi, who sailed all over the place looking for a golden fish to lead them to a homeland.

THE RIDES:

Announced attractions include Ko'okiri Body Plunge, a 70-degree drop through the volcano; a winding river and a racing river; multi-passenger raft rides; assorted slides; pools; beaches; playground and toddler-play areas; and the Krakatau Aqua Coaster, which uses magnets to propel visitors up into the volcano in canoe-shaped rafts.

THE TECH:

Universal is introducing a wearable technology called TapuTapu. The bracelets, included in regular Volcano Bay admission, alerts customers when it's their turn to ride on select attractions and also activates special effects in the park.

THE PARKING SITUATION:

Volcano Bay visitors park in Universal Orlando's giant parking structure and then are transported to the water park. These are the same garages used when going to Universal Studios, Islands of Adventure and Universal CityWalk. Regular parking there costs $20, although prime parking and valet parking are available for an increased fee.

SOUVENIRS AND OTHER EXTRAS:

Visitors can rent cabanas or "premium seating" for the day. Front of line access for most rides and slides is available through Universal Express. (Rates vary.) For souvenirs, look for tiki-themed tumblers, hats and keychains; a kids line featuring mermaids; an "I conquered the Krakatau" T-shirt; and other water gear.

WHAT TO EAT:

Universal says there are more than 60 dishes, South Seas-inspired and otherwise, ready for Volcano Bay visitors. On the menu: mango BBQ pulled pork sandwich, poke poke bowl, quinoa edamame burger and coconut-curry chicken. 

HOURS:

Volcano Bay is scheduled to open at 10 a.m. daily at least through October. Closing times vary between 5 p.m. and 10 p.m., depending on the date.

COST:

A one-day ticket to Volcano Bay will go for $67. A trip to the water park can also be packaged a selection of combo deals for multiple days at Universal's theme parks.
Four Themed Areas for All Ages
Krakatau Volcano 
Wave Village
Wave Village is located at the base of Krakatau Volcano.
Waturi Beach: A sparkling, multi-directional wave pool where guests can swim, relax on the sand or indulge in private, one- or two-story cabanas.
The Reef: An adjacent leisure pool will provide guests with calmer waters and exciting views of riders speeding through the Ko'okiri Body Plunge.
Rainforest Village
Nestled along the shores of a river, Rainforest Village will offer guests spots for relaxation and exhilaration.
Maku Puihi: North America's first "saucer ride" – sending multi-passenger rafts speeding around three saucer-shaped curves.
Ohyah and Ohno Drop Slides: Two twisting, adrenaline-pumping slides that launch guests four- and six-feet above the water at the end.
TeAwa The Fearless River: An action-packed, racing torrent river where guests hang tight in their inner tubes amidst roaring, whitewater rapids.
Taniwha Tubes: Four unique Easter Island-inspired slides with rafts for single or double riders.
Puka Uli Lagoon: A tranquil pool where guests can swim and relax.
River Village
The scenic River Village has fun for people of all ages, including the very youngest Waturi.
Kopiko Wai Winding River: A gentle, winding river that will pass through the volcano's hidden caves, featuring spontaneous water effects and special nighttime lighting.
Tot Tiki Reef: A whimsical toddler play area with spraying Maori fountains, slides and a kid-size volcano.
Runamukka Reef: A three-story water playground inspired by the coral reef overflowing with twisting slides, sprinklers and more.
Honu Ika Moana: A twisting, multi-passenger raft ride that will glide across bubbling geysers.