Who doesn't love a delicious milkshake?  Just when you think a tasty milkshake at Walt Disney World couldn't get any better, then they go and offer an all you care to enjoy milkshake, which basically means that you can get as many refills on the milkshake as you want! 
The new milkshake offering is located at The Plaza Restaurant on Main Street, USA not far from the entrance to the Magic Kingdom.  This is a fabulous offering an great treat for families to splurge on when they need a sweet, cold treat to enjoy while in the park.  Since the Florida weather is typically warm, ice cream almost always sounds like a great idea!
The featured milkshake will vary from month to month, so it will be exciting to see what flavors Walt Disney World comes up with each month or if they will do any themed milkshakes.
The sign for the "All-You-Care-To-Enjoy Featured Milkshake" reads: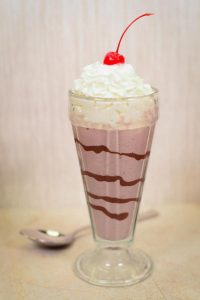 Vanilla Milkshake mixed with Chocolate Hazelnut Spread and topped with Whipped Cream and a Cherry
$9.00
Sales Tax Not Included
This may be one of the most exciting and best valued treats at Magic Kingdom!