[vc_row][vc_column][vc_column_text]
The Walt Disney World Resort es un complejo de entretenimiento en Bay Lake, Florida cerca de Kissimmee y es la punta de lanza del imperio de parques tematicos mundiales de Disney. El resort abrió al público el 1 de Octubre de 1971 y es el destino de vacaciones más visitado en el mundo con una asistencia de más de 52 millones de visitantes anualmente.
Disney World es propiedad y operado por Walt Disney Parks and Resorts, una división de The Walt Disney Company. La propiedad cubre 27, 258 acres ó 42 millas cuadradas en que alberga 4 parques temáticos, 2 parques acuáticos , 27 hoteles temáticos, 9 hoteles NO de Disney, 4 campos de golf, 2 campos de mini golf tematizados, 1 resort para acampar y otras sedes de entretenimiento.
Los resorts de Disney se clasifican en 5 categorías:
Adicionalmente , están ubicado en 4 areas de resorts:
Un nuevo concepto, el Golden Oak at Walt Disney World Resort, una comunidad de lujo y dispondrá de hogares diseñados por el Walt Disney Company. El campamento conocido como Fort Wilderness también proporcionará a los huespedes la oportunidad de dormir en cabaña asi como en tiendas de campaña y campers.
Disney Art of Animation – Fabuloso Hotel Economico dentro de WDW.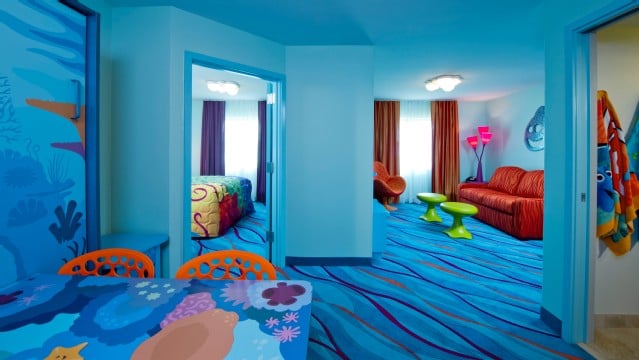 Value = Hoteles Economicos
Disney's Caribbean Beach Resort – Resort Moderado con Ambiente Caribeño.
Resorts Moderados
Disney's Animal Kingdom Lodge – La Vista desde el Balcón a la Savana Africana.
Resorts Deluxe
Disney's Fort Wilderness Resort & Campground – Dispone de Areas para Acampar. 
Cabañas y Areas de Acampar
Disney Vacation Club Resorts
Disney Boardwalk -Arquitectura de New Jersey de años 20
[/vc_column_text][vc_separator][vc_separator][/vc_column][/vc_row]