Westgate River Ranch is a beautiful property in the heart of Florida. This is perfect for families and couples who are looking to relax and enjoy the outdoors. The ranch offers plenty of opportunities to get outside, with hiking trails, fishing spots, horseback riding adventures and more! Here's our list of Westgate River Ranch top 10 activities on property:
1. Singer Songwriter Series | Westgate River Ranch
Looking for live music in a relaxed and beautiful setting? Check out the Singer-Songwriter Series at Westgate River Ranch! This unique event takes place in the ranch's Saloon, where guests can enjoy performances by some of Nashville's top singer-songwriters. 
Last month I had the opportunity to experience the concert for myself. I truly felt like I was on Broadway in Nashville. The intimate setting of the Saloon creates an up-close and personal feel that you rarely get an ordinary concert! This is definitely a must-see at the River Ranch.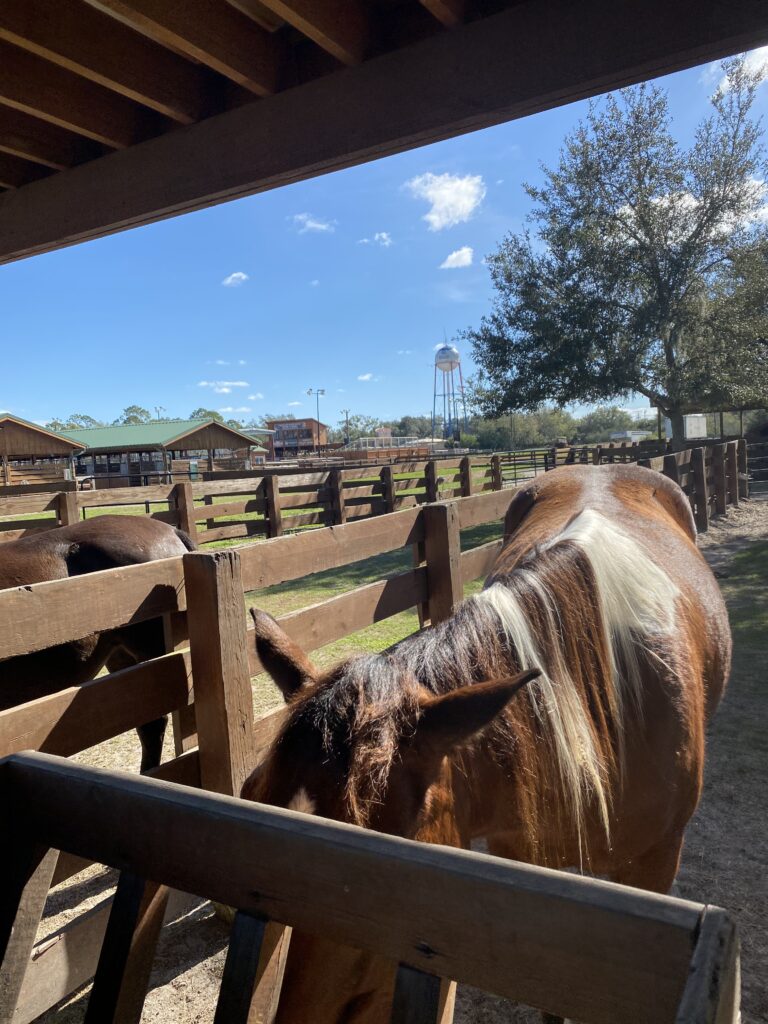 Looking for a unique and exciting experience? Look no further than horseback riding at Westgate River Ranch Resort & Campground! Our experienced wranglers will take you on a guided tour of our beautiful property, winding through the forest and past the rushing river. You'll get to experience the best of what nature has to offer while enjoying the company of friendly horses. Horseback riding is perfect for all ages and skill levels, so don't hesitate to give it a try!
3. Airboat Rides | Westgate River Ranch
Westgate River Ranch offers guests a unique opportunity to explore the natural side of Florida with airboat rides. Firstly, this hidden gem is located on the beautiful banks of the Kissimmee River and is home to various wildlife, including alligators, deer, eagles, hawks, and turkeys. Above all, Airboat rides at Westgate River Ranch are a must-do for anyone visiting!
Stop by the Petting Farm at Westgate River Ranch for some animal fun! You'll find all sorts of creatures, from horses to deer. Get ready with your camera as you meet these friendly furry friends face-to-face and take pictures while feeding them too (or just let them come to you). In other words, we guarantee that every visit will give new meaning to "pet Therapy!"
5. Skeet Shooting Range | Westgate River Ranch
Looking for a fun activity to do with your friends? How about visiting the Trap & Skeet Range at the Westgate River Ranch Resort! You can test your shooting skills while surrounded by beautiful nature. The range is open seven days a week so that you can come anytime you want. And, if you don't have any experience with guns, don't worry – the staff will be happy to give you a tutorial on how to use the equipment.
If you're Skeet Shooting, two machines located on each side of the shooter will launch targets that cross in front. There are five skeet fields and two trap fields available on the range. Guests are welcome to bring their own equipment and supplies, but it's not necessary. Everything you need is available to rent.
Ziplining is the perfect way to explore the great outdoors while having a blast. The River Ranch Resort is home to an adventurous Zip Line that will take your ranch experience to new heights. Soar high over the property with this pulse-pounding, unforgettable adventure.
7. Archery Range | Westgate River Ranch
Archery is a sport that many people enjoy all over the world. If you are looking for a place to enjoy archery, you should check out Archery Range River Ranch. This range offers everything from beginner lessons to experienced archer targets. You'll find something to test your bow and arrow skills here!
Look no further than the swamp buggy rides! Perched high up on the massive swamp buggies, you're sure to see plenty of natural Florida wildlife on this outdoor adventure. Take a thrilling ride through the swamps and marshes. You're sure to have an unforgettable time!
9. Rock Climbing | Westgate River Ranch
So if you're looking for something new and exciting to try, why not give rock climbing a go? The ranch offers beautiful scenery and rock climbing, making for a fun and challenging experience. You don't need any prior experience to enjoy this activity – just be prepared for some serious exercise! It's sure to get your heart racing!
Westgate River Ranch Resort & Rodeo is the perfect place for an evening of family fun! Be captivated by rodeo athletes from across Florida competing weekly at a 1,200-seat arena in trick riding, barrel racing, and bulldogging. The event features patriotism as it celebrates our armed forces alongside talent contests that will leave you awe-struck at their skillfulness.
Make Westgate River Ranch Your Next Vacation
Westgate River Ranch is an excellent property for families and couples looking to reconnect with nature. Whether you're interested in hiking, fishing, or horseback riding, the ranch has plenty of opportunities to explore Florida's natural beauty. If this sounds like your ideal vacation spot, make sure not to miss out on these top 10 activities on property! Sharing our blog post would be an excellent way to share more about what makes Westgate so unique. Have any friends that are considering visiting? Please share it with them today!