7 min Read
Halloween Horror Nights are one of the most popular annual events at Universal Orlando Resort. After being canceled last year due to the pandemic, Halloween Horror Nights is back with its 30th year of the scariest Halloween event. With this event quickly approaching, it's time to get excited about all the terrifying creatures and deranged killers that await you! This post will give you a rundown of what to expect so that you can plan to survive the frightening night.
What awaits you…
Halloween Horror Nights, now in its 30th terrifying year of horror and thrills from the world's most notorious creators, is a frightful place to be on your own. The central theme for the event is the golden rule, "Never go alone." We all know that if you wander off the path, there's a good chance that something terrible will happen to you! You'll want to bring a friend with you, so you have someone to cling to, someone to hide behind, somebody to escape into the night with. Because just as in horror films where the first to wander off meets a terrible fate, there's one thing to remember at Halloween Horror Nights: Never go alone.
Since Halloween Horror Nights cancelation last year and this year marks the anniversary, you can expect an ALL new immersive haunted house experience, Halloween Horror Nights Icons: Captured – which takes the unfortunate guests through 5 grueling original horror stories as they're hunted through every turn! (More details below)
In addition, this year, you'll be able to explore ten horrifying haunted houses, five terrifying scare zones, and two crazy live shows based on everything from horror favorites to haunting original stories – all created by the twisted visionaries of Universal Studios. (See the whole list below)
The Haunted Houses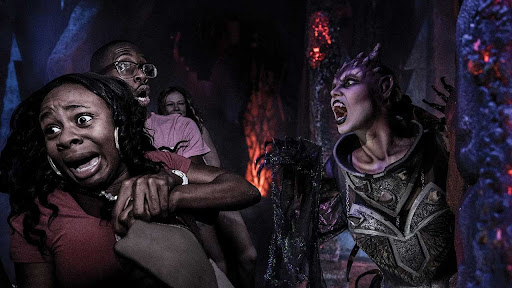 This year with ten horrific haunted houses, you're in for a frantic night. Exploit your fears as you lurk down tight hallways with discoveries at every twist and turn. Headlining this year's event are houses inspired by the iconic stories of Beetlejuice, Netflix's The Haunting of Hill House, and The Texas Chainsaw Massacre. Here is a list of all the Haunted Houses and what to expect:
I.   Beetlejuice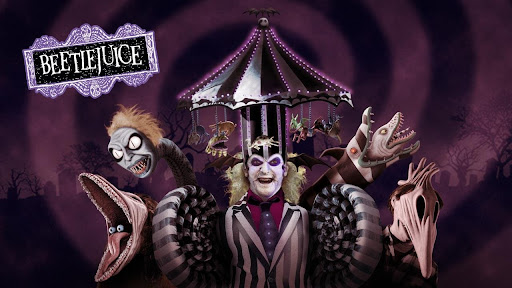 Guests will be at the whim of Beetlejuice and his self-described "Bio-Exorcist" as they shadow their every move through artfully recreated scenes from the famous film. From the infamous haunted attic within Maitland's home to Dante's Inferno Room, guests will have a chance to enter this movie surrounded by its most iconic characters. With brash defiance, Beetlejuice is ready to turn on the juice for all who dare come near!
II.    Netflix's The Haunting of Hill House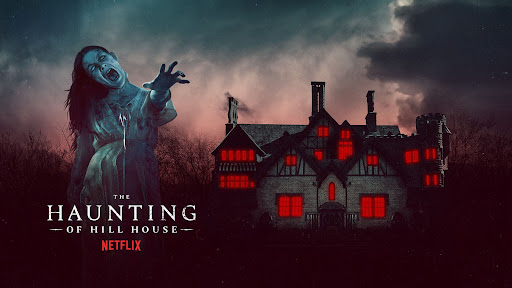 In Netflix's critically-acclaimed series "The Haunting of Hill House," the tale of an iconic and ominous haunted house that beckons guests to embark on a dark journey experienced by its unfortunate inhabitants (the Crain family). Visitors are challenged with navigating through eerie scenes from the Netflix series – what they'll encounter varies depending on how much courage or lack thereof they have left after being pushed into horrifying encounters like entering The Red Room, where deceptive powers overtake everyone who enters! Scaredy cats beware – this horror show is not for those who fear their shadows!
III.   Universal Monsters: The Bride of Frankenstein Lives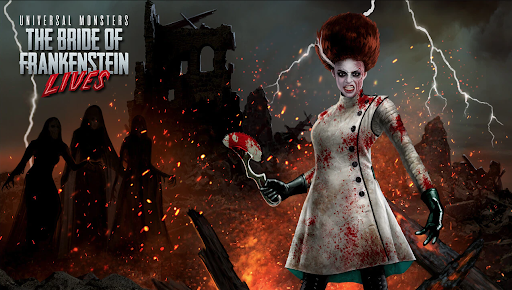 Universal Studios' new immersive haunted house, "Universal Monsters: The Bride of Frankenstein Lives," takes guests back to the original 1935 film and continues its story. Guests are thrust into chaos as this ruthless scientist becomes an unstoppable force with a mission to find eternal life at all costs. Her unwavering quest will come at great expense-and soon enough, you'll be embroiled in a frantic battle trying your best to get out alive!
IV.   The Texas Chainsaw Massacre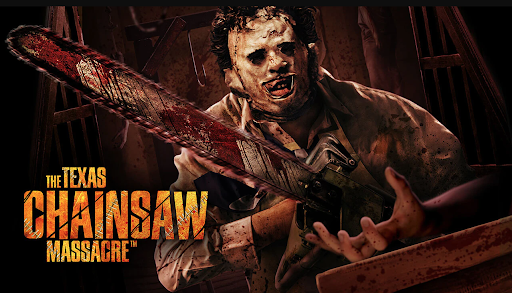 Universal Orlando Resort will be bringing a new horror to life with the frightening experience of Leatherface. Guests will embark on an intense and disturbing journey through scenes from The Texas Chain Saw Massacre as they try to outrun Leatherface's relentless chainsaw. From a dilapidated gas station to an eerie, old farmhouse, they will witness unimaginable horrors around every corner, soon discovering that nowhere is safe from the demented Leatherface.
V.   Halloween Horror Nights ICONS: Captured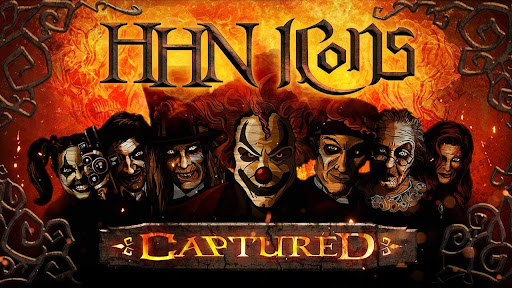 The most notorious icons in history are joining forces to inflict unimaginable terror upon guests this year! Guests will quickly realize they're the hunted as they encounter a monstrous "Hell of Fame" where they'll have no choice but to face the brutal cruelty and madness. This foreboding collection includes:
The Caretaker

, a once well-respected surgeon who has become eerily infatuated with the removal of internal organs – especially while his patients are conscious

The Director

, an aspiring filmmaker obsessed with capturing the suffering and torture of his victims on film – placing them in their very own living horror movie

The Usher

, who seeks to invoke violent vengeance on those who don't follow the rules of his theater

The Storyteller

, who stops at nothing to entrap guests into her latest tales of terror, where no one lives happily ever after

Jack the Clown

– the original Halloween Horror Nights icon and the most feared of them all – and his assistant Chance, a deadly pair who thrive on tormenting victims in ways that embody their sick sense of humor
VI.   Welcome to SCarey: Horror in the Heartland

Welcome to SCarey: Horror in the Heartland is a new haunted house transporting guests back to Carey. This town has been home to many of Halloween Horrors Nights' most haunting original stories, and this year, you can experience them all again with Welcome To Scarey-Horror In The Heartland as they come alive this year! Guests will be transported back to the shady township of Carey and enter familiar settings that will leave fans shrieking from nostalgia and horror. From the mysterious cave of vampires from The Hive, the decrepit attic of Dead End, and the disturbing Meetz Meats human deli from Leave it to Cleaver, they'll find no escape from the evil of Carey once and for all.
VII.   Case Files Unearthed: Legendary Truth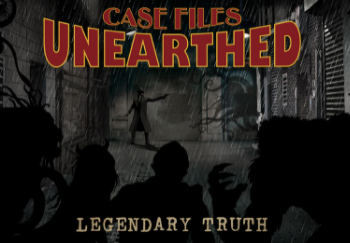 In Case Files Unearthed: Legendary Truth, guests will step into the well-worn shoes of Boris Shuster—the elusive private eye investigating a series of strange occurrences throughout New York City. Falling further and deeper into this shadowy world that is full of ghouls, poltergeists, and terrors alike while trying to solve one big mystery in particular – how they'll survive…
VIII.   Puppet Theater: Captive Audience

The demented side of puppetry and theatre will take center stage in Puppet Theatre: Captive Audience as guests are transported to San Francisco's abandoned Grandeur Theater. They'll find the Pasek's Puppeteer Troupe trapped within its ruins, rehearsing for their next grisly performance with a captive audience. The troupe has transformed trespassers into living puppets – dismantling and sewing them back together as life-sized marionettes for additions to their horrific encore. Will guests escape in one piece, or will it be their final curtain call? No matter what, the show must go on…
IX.   The Wicked Growth: Realm of the Pumpkin

The Pumpkin Lord's lair is a place to be feared. The journey there will take one through an endless maze of terror, and the sights they see are not for those with sensitive stomachs. From dilapidated haunted houses to wicked witches' cottages infested by evil creatures that can't wait to devour any passerby without mercy, it's no wonder this terror-scape has been deemed off-limits since before anyone could remember. One wrong turn in these hallways may lead you straight into his trap where he eagerly awaits new victims–and if he doesn't get what he wants from them right away? He'll keep your soul inside him forever as sustenance until such time when another victim comes along. 
X.   Revenge of the Tooth Fairy

Revenge of the Tooth Fairy is a new maze that will plunge guests into dark and terrifying realms to face off against vicious, goblin-esque tooth fairies. Once upon a time, parents struck a dreadful bargain with these evil creatures to protect their children from being taken by them for their pearly whites. Guests who enter this gory world must hold on tight as they come across little bloodied teeth left behind during the extraction process and watch out for what could be lurking around every corner! The only way out is to hold in your screams and keep your mouth shut.
The Scare Zones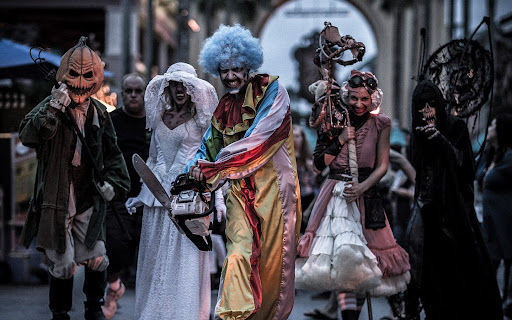 Nightmares are a great way to explore your deepest, darkest fears. Lurking in the shadows or plain sight, evade eerie demonic creatures as you try to make your escape. This year, take on the streets of horror with five new scare zones. Get ready to start sprinting! 
I.   Crypt TV
Welcome to Crypt TV, where monsters from a dark universe reside. Casually walk through these streets and find yourself hunted by creatures of all shapes and sizes. Watch all your surroundings; you'll never know if they're right behind you, ready to make you their next victim. 
II.   30 Years, 30 Fear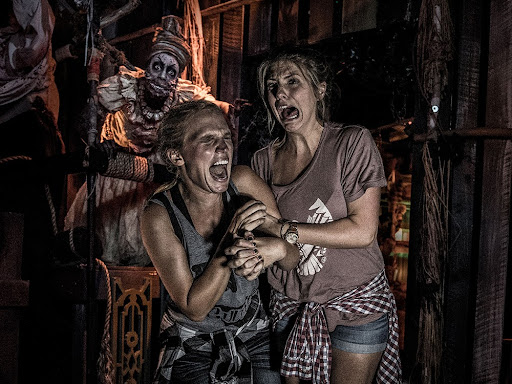 The most infamous characters from past Halloween Horror Nights scare zones will reunite to take over the Avenue of Stars in 30 Years, 30 Fears. Guests will enter a gory reunion where the past has come back to haunt them with creatures of blood and bone, beastly monstrosities, and chainsaw-wielding fiends lurking around every corner. Your favorites like Jason, Freddie, Leatherface, you know the scariest bunch, will all be there waiting for you to arrive!
III.   Seek and Destroy
In Seek and Destroy, guests will find themselves in a New York dystopia where a ruthless alien cyber regime, led by The Controller, has taken over – relentlessly scanning the city streets for humans and turning them into fuel. With the regime's loyal followers hiding in the darkness endlessly hunting for new victims, guests must either join them or be destroyed.
IV.   Gorewood Forest
The heartless Terra Queen is back, and her wicked plans to remake the world in her terrifying image will take root in Central Park, transforming it into the grisly Gorewood Forest. Guests will find nowhere to hide from her menacing minions as they harvest fresh blood to feed her ever-growing power.
V.   Lights, Camera, Hacktion: Eddie's Revenge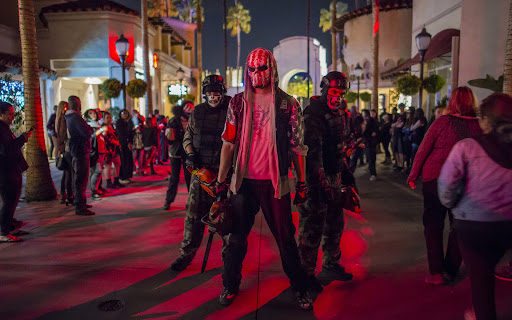 Eddie Schmidt, Jack the Clown's sinister brother, is returning to Halloween Horror Nights to film a gory Hollywood sequel in Lights, Camera, Hacktion: Eddie's Revenge – except this time, the monsters are real. Vampires, evil clowns, creatures from the watery depths, and other horrific beings from the event's past will roar on the scene where guests make their short and painful cameo.
Live Shows
Exchange the screams for laughs at one of two live show performances this year! Lose yourself in live entertainment filled with surprises as you recharge to take on the rest of your frightful night.
I.   Marathon of Mayhem: Carnage Factory
See the terrifying performances in our all-new show, Halloween Nightmare Fuel. Watch creatures of the night come to life, and aerialists fly through a fiery backdrop as they rock out on metal and electronic music! Be amazed by the fire performers who add to the creation of this pulse-pounding performance. 
II.   Halloween Nightmare Fuel 
All-new Universal Studios lagoon show will make its horrifyingly hypnotic premiere at Halloween Horror Nights in Marathon of Mayhem: Carnage Factory. Jack, the Clown, will lure guests into a trance, and they'll awaken to find themselves within an insidious factory with pulsing lasers and pounding music. 
Event Dates & Ticketing
Halloween Horror Nights 2021 officially starts on September 3rd – October 31st on select nights (See Calendar Below for Dates and Times)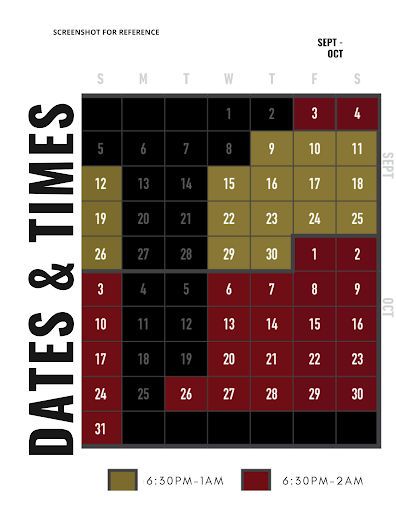 This year there are plenty of options to get the most fear out of your night. Universal Orlando Resort launched Multi-Night Tickets for the 2021 season along with Halloween Horror Nights Express Passes. Prices range from $70.99 + tax for a single night pass upwards to $729.99 + tax for the Ultimate Frequent Fear Pass with the Express Pass. 
A sad farewell…
With Halloween Horror Nights 30, Universal Orlando Resort brings you the scariest event of the year. This year's event will be different than last year's, and it'll feature all-new attractions and scare zones that are sure to make your heart pound fast with adrenaline. Tickets are on sale now, so be sure to get your tickets ahead of time. Access to events may be restricted or unavailable due to capacity or other factors. Stay tuned for more details about our tips and hacks to get the most out of your Halloween Horror Nights experience! 
To ensure that you never go alone, be sure to share with a friend and get ready to survive the night at Halloween Horror Nights' 30th anniversary.